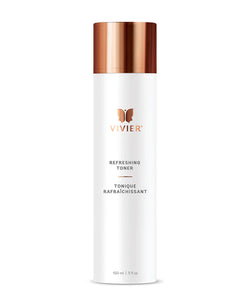 Refreshing Toner
A mild, alcohol-free toner that gently lifts away dead skin cells, debris, and makeup residue leaving your skin feeling toned and invigorated.
Ideal for all skin types.
BENEFITS
Balances and regulates your skin's pH levels to boost moisture and refine pores.
Alcohol- and oil-free formula naturally cleanses to leave your complexion protected in its wake.
Vitamin C and witch hazel extract work to reduce inflammation while decreasing puffiness.
Skin feels invigorated and refreshed after continued use.