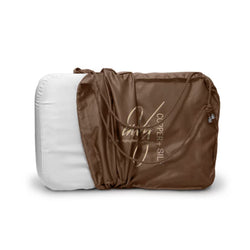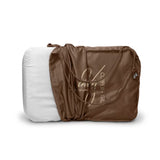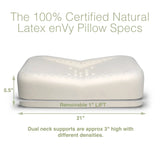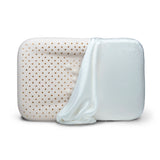 Envy Copper & Silk Pillow
The enVy® COPPER + SILK Anti-Aging Pillow - 100% Natural Latex Pillow with COPPER-infused SILK Pillowcase
Our top selling pillow - '
The enVy®  COPPER + SILK Pillow'
.  We
bio-
infuse our Canadian made specialized
COPPER 
directly
into the pure SILK pillowcase that comes custom-fitted for our 100% Natural Latex Anti-Aging Pillow. Made for
those
 who want the safest, cleanest beauty sleep with the unparalleled benefits of pure COPPER + 100% Mulberry SILK.
This therapeutic pillow supports your neck and spine,
OFF
-loads pressure from your delicate face and TMJ
and
prevents sleep wrinkles with its patented
OFF-Your-Face
design.
*Our Advanced

 

enVy COPPER™️ technology starts destroying any nasties you may have brought to bed with you as soon as your head hits the pillow
.
Anti-Aging While You Sleep

Created by 2 Registered Nurses with decades of experience in the Anti-Aging and Sleep Wellness field, the patented OFF-Your-FACE patented ergonomic design of this Anti-Aging pillow reduced sleep induced wrinkles while providing neck support. enVy® Pillow Company holds a Health Canada Medical Device establishment license #6717.

Designed for back and side sleepers, the cooling vented Natural latex of the enVy® pillow comes with 2 neck support options. Find the one that loves your neck by simply spinning the pillow.

*Each pillow comes with a removable I" Latex LIFT for those who need a higher loft pillow.

Powerful Anti-Microbial and COLLAGEN Boosting

... ALL NIGHT LONG!

We permanently infused our advanced enVy COPPER™️ technology into the entire fabric matrix of the custom-fitted 100% Mulberry SILK pillowcase on this pillow so that you can sleep soundly knowing that it is working all night protecting you from Superbugs (even MRSA, E Coli and Viruses), promoting elastin and collagen, and repairing and rejuvenating your skin.

SWEET to Mother Earth

Our pillows are made with only the finest Eco-INSTITUT certified materials, in a state-of-the-art eco-conscious FSC certified facility. A purely green material straight from the rubber trees, our natural latex is unlike petroleum-mixed latex and therefore non off-gassing.

To make your pillow, we pour the natural latex sap into a patented mould that is the patented shape of the envy pillow and steam-bake it. Then we cover it with undyed natural cotton and our COPPER- infused 100% pure Mulberry SILK pillowcase.

Sleep soundly knowing your pillow was been thoughtfully made with your health - and the planet's - in mind.

Skin Soothing Pure SILK infused with COPPER

Meet the never-done-before 100% Mulberry SILK Pillowcase infused with COPPER by enVy® - Where Anti-Microbial meets Gentle to the Skin.

Our COPPER infused Mulberry SILK .. ✔︎ Reduces friction against the skin by at least 40% compared to cotton. ✔︎ Boosts collagen and elastin so reducing fine lines and wrinkles. ✔︎ Kills any pathogen you may have brought to bed with you!

SILK is an extremely strong, naturally odorless, hypoallergenic, unbelievably smooth and highly breathable. It is also "Hydrophobic" which means it does not absorb your skin's moisture and natural oil keeping your skin hydrated. This also means it doesn't absorb skin care products so they stay on your face where they belong.

*OEKO TEX® certified to be FREE of harmful substances.

Natural COTTON Pillow Protector

We cover all our latex pillows with this 100% Natural undyed cotton liner - soft, breathable and good for you, the farmers that grow it and the planet. OEKO-TEX® Standard 100, Class 1 Certification means its free of any harmful substances such as pesticides or herbicides - suitable even for babies

DIMENSIONS & CARE INSTRUCTIONS