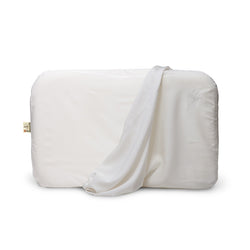 Envy Copper Tencel Liner
The COPPER Ion Technology is permanently infused into the Eco-Friendly Sustainable TENCEL® Liner and work together to inhibit Bacterial, Viral and Fungal growth (including MRSA) and promotes tissue repair ... great after procedures and for acne and rosacea sufferers.
The Anti-Inflammatory and Anti-Oxidant properties of COPPER has shown to enhance the appearance of skin texture, skin tone, and skin wellness. Sleep Clean with our COPPER technology.
How do I care for my COPPER infused Pillow Liner?
As the Copper liner naturally controls germs, washing is not often necessary.
The removable custom fitted Liner should be washed in cool water on a gentle cycle with a delicate fabric detergent (using a lingerie bag is recommended)

Do not use chlorine bleach.

May be tumble dried on a gentle setting or hung to dry

Iron on a low setting.