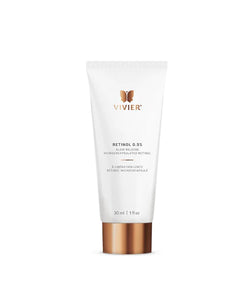 0.5 Retinol SR
A powerful yet gentle retinol complex designed to target moderate skin concerns. Our formula uses industry leading Poly-Pore® Technology* to encapsulate our high potency pure retinol and gently release it over time to visibly reduce the look of fine lines and wrinkles, improve skin tone and texture, and reduce breakouts without the irritation and redness often associated with retinol products. Specially formulated with additional powerhouse ingredients Vitamins C & E to maximize your results plus Squalane to boost hydration and reduce irritation and redness. Fresh skin cells are brought to the surface and collagen production is boosted to deliver plumper, smoother, and brighter-looking skin.  
For all skin types, to maintain results, and for skin that has been pre-conditioned with 0.3% Retinol SR Complex.  
*Poly-Pore® is a registered trademark of Minerals Technologies Inc.