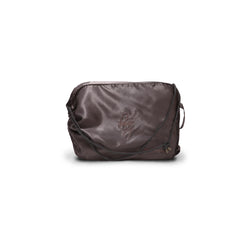 Envy RX Pillow Bamboo TRAVEL SIZE
Sleep with the One and Only Pillow...
That Aligns your Spine + Reduces Wrinkles + Gives you the Best Therapeutic Sleep of your Life.
"The enVy Pillow has shown an outstanding acceptance by users. In a recent survey by our sleep laboratory 80% of subjects demonstrated a significant improvement with more refreshing sleep, energy during the day and the enVy pillow was far superior to any other pillow for neck comfort."

~ Dr. M. R. Goolam Hussain, Tri Hospital Sleep Lab


The
enVy pillow Rx
has received the
Health Canada Stamp
as a designated Medical Device and is carried and recommended by MDs, Chiropractors, Physiotherapist, Dermatologists and Plastic Surgeons and Anti-Aging Professionals. Its Patented V -Shape design provides optimal neck support and spinal alignment, minimizes face-to-pillow contact to reduce sleep wrinkles, promotes fast flawless healing after facial procedures and relieves jaw pain from TMD.
EACH ENVY RX COMES WITH:
Ergonomically shaped

 

LuxFeel

 

memory foam (with two built in neck supports). This Canadian made State-of-the-Art LuxFeel Memory Foam is anti-microbial, Dust Mite resistant and hypoallergenic and DOES NOT become firm even when temperatures are below freezing!
A Custom Fitted 100% Bamboo Pillow Case
Detailed Instruction Sheet
Luxurious satin draw string travel bag
FEATURES...
Each enVy Rx pillow comes with 2 optional neck supports so you can decide which works for you or allows you to progress from the smaller neck support to the larger as your neck alignment improves
Ergonomic Sloped Sides are perfectly engineered to cradle and tilt your head slightly,

 

minimizing face-to-pillow contact

 

AND in

 

optimal neck support and alignment
Central elevated pattern improves circulation by distributing weight and reducing pressure points
HOW TO CARE FOR YOUR ENVY PILLOW...

Do NOT wash the memory foam material. To remove spills or stains gently wipe with a damp cloth and allow to dry.
Avoid using electric blankets or heating pads with your enVy® pillow.
Avoid going to bed with wet hair as this will degrade the product.
Do NOT fold the enVy pillow as the foam will split.
Using the pillow without its custom fitted pillow case will expose the foam to increase wear and tear.

* All above will nullify warranty

HOW TO CARE FOR THE ENVY PILLOWCASE...

The removable custom fit bamboo pillowcase should be washed in cool water on a gentle cycle with a delicate fabric detergent
Do not use chlorine bleach.
Hang to dry or tumble try on low gentle cool setting
Iron on a low setting.